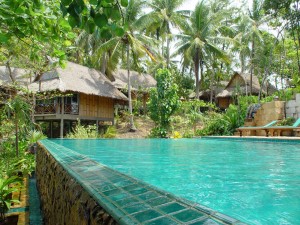 Welcome to Narima – the eco-chic bungalow resort, set among the coconut palms and rain forest trees of its own private bay.
We are located near the National Marine Park on the unspoiled south coast of the beautiful, tropical island of Ko Lanta in southern Thailand.
Understated, natural luxury, tranquil rain forest surroundings and the charming personal service of your hosts, Dr. Nopawan and Dr. Yodchai Jotiban, combine to make this somewhere we hope you'll feel immediately at home, and want to return to, time and time again.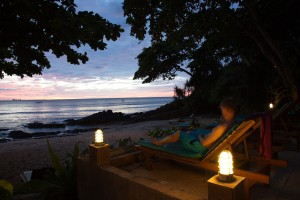 Our focus is on your enjoyment. The owners and staff are discretely at your disposal to make your stay a thoroughly pleasant one.
Enjoy sunbathing on our beach, take a stroll in the rain forest, explore the island, scuba dive or snorkel in the pristine aquamarine water or just relax in a stunning, natural setting.
The large grounds of Narima can be found on an unspoiled section of Ko Lanta's rugged coastline with sea views of distant tropical islands.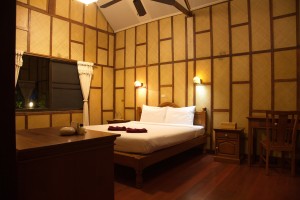 Our thirty-two, architect designed bungalows are set among the natural rain forest that has been growing on this island for thousands of years. It is still a lush, green haven for plants and animals.
As you wander through the grounds of the resort, you'll see many kinds of tropical flowers, plants and orchids.
Our small piece of jungle is also home to many kinds of fascinating wildlife such as sea eagles, kestrels, herons and other birds, butterflies, monitor lizards and even the odd inquisitive monkey! You can see elephants wandering past the resort on their way to work each morning.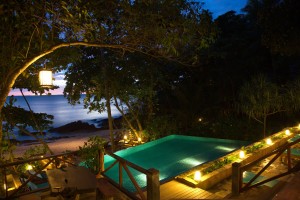 The resort has a large 3-tiered swimming pool. The highest level is a Jacuzzi spa pool – great for enjoying the sunset with a cocktail.
The large main pool has an infinity view out to sea and onto the horizon. There is a wide step the length of the pool, which is perfect for reading a book on. The lower level has a small, shallow children's pool.
All our buildings have been designed to the highest standards by one of Thailand's best architects, and use natural materials that blend well into the quiet secluded setting.
We invite you to come and share a little piece of our island dream.
A warm welcome and personal service awaits you.