We offer you secluded privacy and stylish luxury in one of our thirty-two, architect designed, bungalows. They are set within our beautiful, wild, jungle-gardens.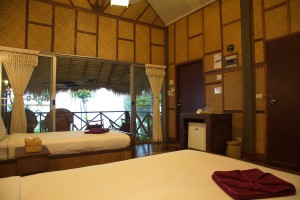 Each bungalow has breathtaking sea views of distant tropical islands, with a perfect sunset that can be viewed from your private balcony every evening.
The bungalows have both a ceiling fan and air conditioning, a large double bed (22 rooms have an additional large single bed), fully stocked minibar, white-tiled hot shower and western-standard bathroom.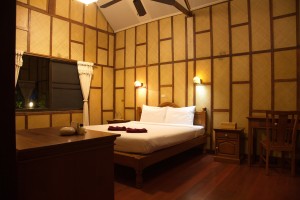 Furnishings are simple in construction and fittings are made from warm natural materials. The bungalows have a spacious, airy feel, with linen drapes on the ceiling
and large French windows, which open onto your private roofed balcony, overlooking the Andaman Sea.
The balcony has a 2-person hammock and Thai style reclining chairs made from sugar palm fronds or teak chairs. There are sliding mosquito mesh screens that can be closed during the evening if you want to leave the French windows open.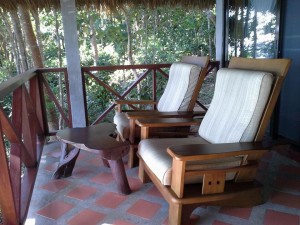 Your minibar is restocked daily with a choice of beers, soft drinks, two complementary (refillable) bottles of fresh drinking water.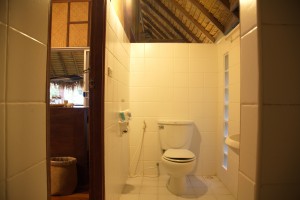 Modern bathrooms are private but open air in traditional Thai style, with hot shower and western toilets. The large mirror is hand decorated with shells, some of which can be found on Narima's beach.
Water in your bathroom comes direct from the mountain streams on Lanta and is purified by Narima's own water purification system. This water is fresh, clean and pure enough for you to brush your teeth with.