Our philosophy at Narima is to try to enable you to do whatever you like, so if you require a service not listed here, please ask and we will do our best to organize it for you.
Swimming Pool & Whirlpool Tub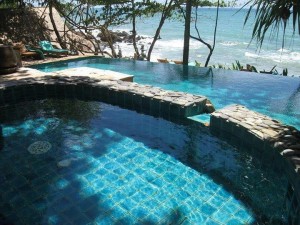 Our terraced swimming pool is on three levels, with sundecks overlooking the beach.
On the highest level we have a jacuzzi whirlpool tub with a large seat and great views of the ocean and beach. The main pool gently slopes to a maximum depth of 1.8m. The child pool is at a lower level just off the beach.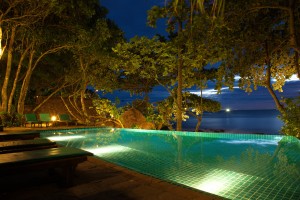 The pools are filled with sweet, fresh, water from Lanta's mountain springs, which is filtered by Narima's own water filtration system, and then gently chlorinated.
The large main pool has an infinity view out to sea and onto the horizon. There is a wide step the length of the pool, which is perfect for reading a book on. The lower level has a small, shallow children's pool.
 Laundry Service
If you drop your laundry off at reception by 10.00am, we offer a same day service. It will be returned to your bungalow by around 4.00pm.
 Internet
We have two dedicated Internet PC's. They are located in an air conditioned room.
Wireless Internet is available free of charge.
 International Phone Calls
All international phone calls are 50 baht/min 
There is mobile phone coverage most of Ko Lanta. True and AIS are the two providers available in the area.
 Satellite TV
Television is available in the restaurant.
 Library
We have a selection of books in many different languages for you to read while you are here. Many of our guests leave or swap books from the library, so it is always changing and growing.
 Rental
Car
Economy 1,200 Baht/Day
Compact 1,500 Baht/Day
Motorbike
300 baht/day
150 baht/half day
50 baht/hour
Mountain Bike
100 baht/day

20 baht/hour
Snorkelling Rental
Mask + Snorkel : 100 Baht/Day
Mask + Snorkel + Fins : 150 Baht/Day
Laundry Service
Wash & Dry 50 Baht/kg
Day Trips
There are many things to see and do on Ko Lanta. Dr. Nopawan is a mine of information and local knowledge and will willingly take the time to tell you about some of her favourite places. There is also plenty to see if you want to go off exploring by yourself. We have a great 'Biker's Map' that highlights some of the sites you can take in during a day of biking around the island.
We also have a range of organized day trips that you can book at the reception. These include Scuba Diving, Snorkelling, Sea Kayaking through the Mangrove Forests, 4 Island Tour, Ko Rok Tour, day trips to Ko Phi Phi, Elephant and Jungle Trekking, Thai Cookery Courses and more. Please take a look at the Lanta Activities page for more information about these trips.