Narima's bungalows are arranged in three rows (A, B & C), facing out over Lanta's unspoiled coastline.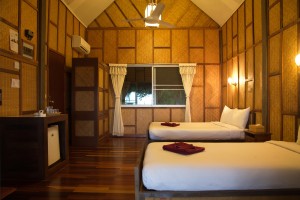 A-Row bungalows have fabulous panoramic sea views.
B-Row bungalows are set slightly back from the A-Row and are offset between the A-Row bungalows to also give a sea view.
C-Row bungalows are set furthest back from the coastline. All the bungalows are built to the same exacting high standards.
All prices include breakfast for two people from our breakfast buffet during high and peak seasons or from A La Carte Breakfast Menu to the value of 300 baht per person.
High Season: 1st Nov 2017 – 19th Dec 2017 & 11th Jan 2018 – 15th April 2018

A-Row Seaview (11 bungalows) 4,200 baht
B-Row Superior (10 bungalows) 3,000 baht
C-Row Superior (11 bungalows) 2,700 baht

Peak Season: 20th Dec 2017 – 10th Jan 2018

A-Row Seaview (11 bungalows) 5,200 baht
B&C-Row Superior (21 bungalows) 4,000 baht

Low Season: 16th Apr 2018 – 31st Oct 2018

A-Row Seaview (11 bungalows) 2,200 baht
B-Row Superior (10 bungalows) 1,800 baht
C-Row Superior (11 bungalows) 1,300 baht
Notes:
All rates quoted include government tax.
The rate are per night and in Thai currency (Baht)
The rates include ABF for 2 persons
Children under six years old are free of charge
Children 6-12 years old are half price for extra bed and ABF (400 Baht)
Maximum number of adults occupying a unit is 3 persons. The third adults is charged 700 baht for extra bed and ABF
We accept MasterCard and Visa.
No show charge : One night charge will be collected for no show clients.
Cancellation policy

Low Season – To be informed at least 7 days prior to client's arrival
High Season – To be informed at least 30 days prior to client's arrival
Peak Season – To be informed at least 45 days prior to client's arrival
Otherwise one night charge will be collected