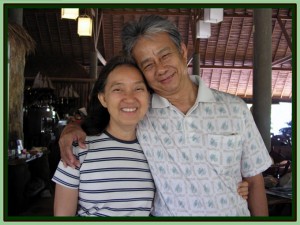 The Narima Resort is owned and managed by Thai couple Dr. Yodchai and Dr. Nopawan Jotiban.
They both left Thailand to study in Colorado where they achieved their PhD degrees in Engineering and Sociology.
After meeting and falling in love in Colorado, they returned to Thailand in 1977 and married the next year.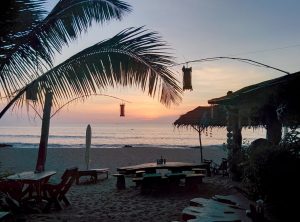 In 1989 they visited Ko Lanta where they fell in love with this fabulous plot of land on the rugged coastline.
For the next eleven years they daydreamed about designing and building their retirement home.
During this time, Nopawan taught graduate
programs in Bangkok while Yodchai enjoyed an illustrious career at the Petroleum Authority of Thailand.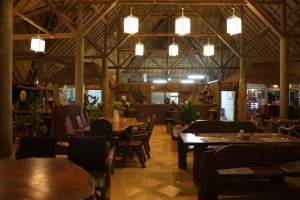 In 2001 they were both offered early retirement and seized the chance to make a start on their beloved island dream. They approached their Colorado friend Seri Thanachanan, now one of Thailand's top architects, to design The Narima.
While they are new to tourism, both share a love of people and a clear vision of how a resort should be.
The Narima is fast becoming famous for their special brand of hospitality and the beautiful place they have made.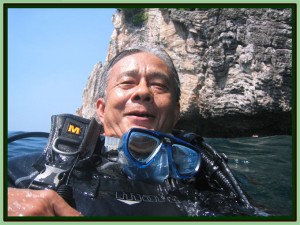 Since adding a PADI Dive Centre to their resort, Yodchai has discovered a passion for Scuba Diving. At age 61 he gained his PADI Open Water certification. He now joins the dive trips regularly and recently experienced swimming with giant Manta Rays for the first time.
He is also a keen golfer, and practices his swing every morning on his own driving net.
He can often be found in the 5 Island Bar, putting his favourite Jazz tunes on the music system.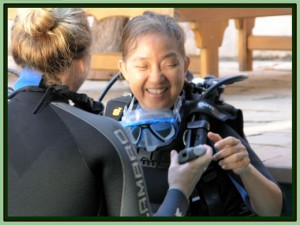 Nopawan is the driving force behind Narima. She personally ensures that every aspect of your stay is as perfect as humanly possible. She is an absolute mine of information about the hidden delights ofKo Lanta and often takes guests on private tours to all her favourite places. At age 58 she accompanies guests on treks through the Mai Kaew Cave, is an avid Snorkeller and recently completed her first dives at Ko Haa.
Following in her father's footsteps, Nopawan has recently been awarded judge-ship in the juvenile court in Krabi.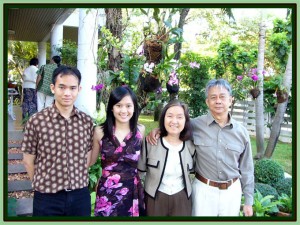 Dr. Yodchai and Dr. Nopawan have two children, Narisa and Chanchai. Narisa currently works for a Natural Gas distribution company in Toronto. Chanchai graduated from university in Canada, and now works for a software company based in St.John's.